Enjoy a relaxing and convenient trip to Cape Cod on the CapeFLYER train! We have included convenient amenities to make your trip stress-free and enjoyable! Bring your bike (no charge) in the bike car that is equipped with free use of bike tools.  Wireless Internet is always free aboard the CapeFLYER!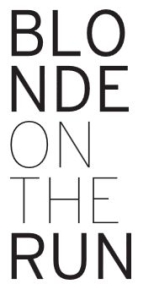 Grab & Go
BOTR Classic Banana Bread / Nut Free $3
Top Shelf Cookies $3.75
Q's Nuts assorted flavors $3.75
Kind Bar $2.25
Candy $2.50
Pretzels $2
Cape Cod Potato Chips $2
BOTR Hummus, Pretzels and Vegetable Box $8.50
Chica de Gallo Guacamole with Tortilla Chips $8.50
Chica de Gallo Salsa with Tortilla Chips $8.50
Cranberry chicken salad with celery and mayo / side roll and chips $10
Local Craft Beer
Barnstable Brewing / Rotating Selections $9
Cape Cod Beach Blonde / Rotating Selections $9
Turtle Swamp / Rotating Selections $9
Wine + Bubbles
Moët & Chandon Champagne Brut Impérial 187 mL – Champagne France $17
Laluca Prosecco D. O. C. Treviso 187 mL- Italy $13
Château La Freynelle – Bordeaux Blanc 2021 – France $10
Campuget Rosé 2021- France $10
Famille Perrin Côtes du Rhone 2019 – France $9
Cocktails
Cape Codder $13
Goslings Dark and Stormy $13
Mimosa with Prosecco $13
Moët Mimosa $16
Spirits
Absolut Vodka – Sweden $10
Monkey Shoulder Blended Malt Scotch Whisky – Scotland $10
Gosling's Black Seal Rum $10
Beverages
Poland Springs Bottled Water $2.50
Sparkling Water $2.50
Tropicana Oj $3
Hot Coffee $2.50
Ocean Spray Cranberry Juice $3
Coke $2.50
Diet Coke $2.50
Pre-Order Menu Items
Shrimp cocktail with lemon wedge and cocktail sauce / MKT price
Cheese and charcuterie
Picnic lunch
Pre-Orders for larger groups: 24 Hour Notice Needed
Call 413-427-5792 or email [email protected] to place an order.
We use local small batch companies.
Thank you for riding the CapeFLYER Train. We appreciate your business.
Due to COVID-19 our menu is subject to change without notice as based on weekly vendor availability.
Our team is taking extra precautions to ensure your safety due to COVID-19.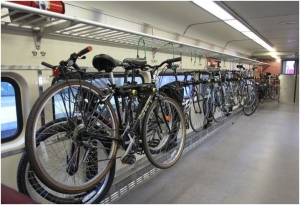 Bring your bike for FREE to Cape Cod and bike some of the nations most beautiful and pristine shoreline and forests.  Need to inflate a bike tire or make minor repairs before you get here? All that can be done en route in the train's "bicycle car". Space is limited—First-come, first-served.
Access the Cape Cod Regional Transit Authority free transit map, showcasing all bike trails in each Cape Cod Town.
Click here for the free transit map
Click here for bike paths on Cape Cod

If you would like to be productive while onboard the CapeFLYER, feel free to access the MBTA wireless service.
Click here read about the MBTA's Wi-Fi Commuter Rail Connect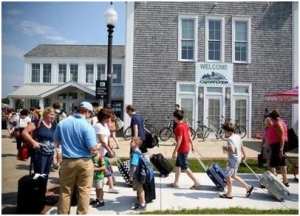 Self service luggage storage is available on the CapeFLYER.
Photo by Jonathan Wiggs, Boston Globe Staff
The CapeFLYER is accessible for all passengers. Please contact us with questions at 508-775-8504. You can also access a conductor before boarding or once onboard. In addition, persons with disabilities now ride 50% off with the Transportation Access Pass CharlieCard