Welcome aboard the CapeFLYER, a summer weekend passenger train that runs from Memorial Day Weekend through Labor Day from South Station to Hyannis, with stops in Braintree,  Brockton, Middleborough/Lakeville, Wareham Village, Buzzards Bay, and Bourne.
The CapeFLYER's no-traffic worries train service offers a relaxing and comfortable ride with all the comforts you would expect onboard a passenger train —  free Wi-Fi, wheelchair accessibility and you can even bring your pet or your bike for FREE! Reservations are never required, there are plenty of seats available! Extra coaches are also added for holiday weekends.
Schedules & Fares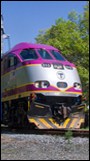 The CapeFLYER is available early Summer to Labor Day with transportation to Hyannis from South Station with stops in between. Service is not available weekdays.
» Train schedule and fares
Purchase Tickets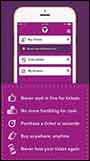 CapeFLYER tickets are available for purchase at South Station and on the official MBTA mTicket App.
Ferries to Nantucket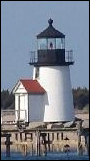 Including Nantucket to your trip to Cape Cod and the Islands is easy, quick and enjoyable! Transportation to the docks from the Hyannis Transportation Center is available by ferry shuttle or trolley!
»  Nantucket Ferry Schedules
Ferries to Martha's Vineyard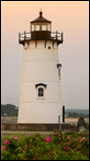 The CapeFLYER makes your transfer from the train to the docks easy so that you can get connected to the Martha's Vineyard ferries from Falmouth Harbor, Woods Hole or Hyannis.
»  Martha's Vineyard Ferry Schedules
CapeFLYER Train Route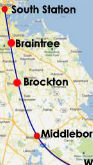 Ride comfortably aboard the CapeFLYER from South Station to Hyannis, with stops in Braintree, Brockton, Middleborough/Lakeville, Wareham Village, Buzzards Bay and Bourne.
»  View Map
Reduced Fares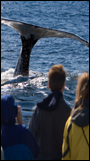 The CapeFLYER offers 50% off fares for Seniors with ID or with the Senior CharlieCard. Persons with disabilities get 50% off with the Transportation Access Pass CharlieCard.  Group fare discounts are also available for groups of 10 or more.
»  See Details
Bikes Ride FREE!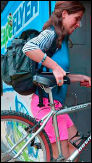 Bring your bike to Cape Cod for free aboard the CapeFLYER! Need to inflate a bike tire or make minor repairs before you get here? All that can be done en route in the train's bicycle car!
» Bike Paths On Cape Cod
Kids Ride FREE!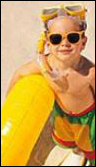 Kids 11 and under ride FREE when accompanied by a paying adult! Save money and create memories with your children when you ride the CapeFLYER from Boston to Cape Cod!
Transportation options to bring you to your final destination
In addition to a convenient trip to Cape Cod, the CapeFLYER has coordinated with ferry services to provide convenient connections to and from Nantucket and Martha's Vineyard.  Local buses are available upon arrival in Bourne and Hyannis so that you'll be able to proceed to your destination. Visit our My Final Destination pages, where you'll find available transportation to and from Upper Cape, Mid Cape, Lower Cape and Outer Cape.